Juki DX-2000QVP
Professional Quality Quilting & Sewing Machine
Created for quilters, backed with industrial technology

Enjoy a new level of performance with JUKI's newest quilting & sewing machine.
That's the DX-2000QVP.

Innovative functions are realized through the fusion of Industrial and
Home Sewing Technology. Experience the machine and stitch quality that only the
largest Industrial Sewing Machine Company in the world can offer.
Release yourself from the stress of working towards perfection and
enjoy the new Smart Sewing Operation System with
customizable operations to fit your sewing needs.
Enhance your quilt-making experience with an exciting variety of
stitch patterns and specialty quilt accessories available only for the DX-2000QVP.
We are proud to introduce the DX-2000QVP.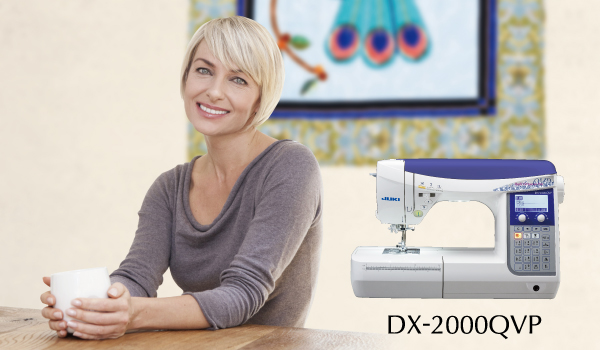 Box Feed - JUKI Industrial Sewing Machine Technology
| | |
| --- | --- |
| | The box feed technology moves your fabric to allow you to create perfect high-quality stitches on all types of fabrics. The box feed system stays in contact with your fabrics longer for a consistent, reliable seam every time. Piece perfectly without worries of shifting or sliding fabrics. |
Straight Stitch Slide Plate
Simply slide the front lever to switch to a single needle hole. Sew the lightest fabrics with perfect needle permeation. The single needle plate will not allow fabrics to be pushed into the needle hole. Free motion stitch with precision and perfection. Sew with confidence, when the single needle hole plate is set, only the straight stitch patterns can be selected.
| | |
| --- | --- |
| Needle hole for straight stitches | Normal needle hole |
Float Function Prevents uneven Seams
| | |
| --- | --- |
| | By pressing the float button, you can sew with the presser foot slightly raised. By raising the presser foot to float you can sew fabrics without pushing layers or creating uneven seams. This is effective when quilting and sewing appliques. The height of the presser foot can be set from 0 to 2.5mm in increments of 0.1 mm. |
Large sewing space
| | |
| --- | --- |
| | Enjoy extra space and comfort by adding the accessory table while quilting. |