Kangaroo Wallaby - Unassembled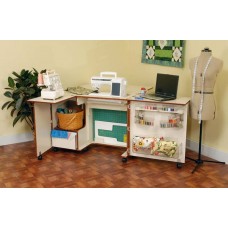 Wallaby Sewing Cabinet
About Wallaby Sewing Cabinet:
Our Wallaby has a three-position airlift that holds most sewing machines comfortably and moves effortlessly up and down in a small footprint. The lifter platform adjusts easily to o all heights of machines for ease of free-arm and flatbed sewing, then down into storage inside the cabinet.
Your sewing machine will fit nicely on the lift while the space to the left of the kabinet offers room for a serger, for a felting machine or even another sewing machine.
The Wallaby comes with a quilt leaf on the back of the cabinet that folds up or down and will help to expand your work area, preventing large quilts or large pieces of fabric from falling on the floor behind the cabinet.


Trays on the door, a large drawer and shelf keep all your sewing accessories at hand and organized neatly.
Once your sewing project is complete, safely conceal and secure all your sewing notions, fabric and equipment by closing both doors and turning the key to lock them shut.
The Wallaby is offered in a Teak melamine to complement any décor. Adopt one of our Wallabys today!

Manufacturer's Suggested Retail Price is $999.00 USD. Prices are subject to change


Closed Dimensions: 39-½"w x 19-1/4" d x 30" t
Open Dimensions: 64-½"w x 42-½"d x 29-½"t
Sewing Machines no larger then: 19" w x 9-5/8"d*
*Not all sewing machines will fit into the Wallaby!
Assembly is a snap! Requires a standard screwdriver, adjustable wrench and hammer/mallet. Includes easy-to-follow instructions, plus a friendly toll-free help number and step by step You Tube video, link located in our Video Section.